This page is the property of Camaror, so please don't modify it. Thank you and enjoy your reading !
-"
A growing shadow is about to engulf the world in an eternal misery, mark these words Meliodas, the undeads clan managed to free itself from the limbo, the First One and his armies are back...",
Baltra Liones
, telling Meliodas about his new vision of the future
The Undeads Clan is a clan of beings born from the Reaper's Curse. The Undeads Clan is a clan which was an ally of the Demon Clan for thousands of years, but the Demon Clan, during the Great War against the four other races, feared that the Undeads Clan gains too much power by reanimating all the dead corpses (of their allies and ennemies) and feared to be overwhelmed by the permanent growing forces of their allies. The Demon Clan and all its allies decided to seal away all the undeads in The Limbo, a dimension empty of all life and magic where no being can survive. But it was a terrible mistake : since the Undeads Clan managed to break through and escape The Limbo. Stronger than ever, the Clan has only one objective : Avenge themselves by destroying the Demon Clan and reap all forms of life out.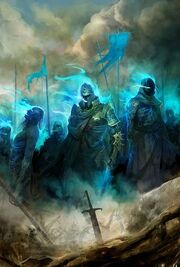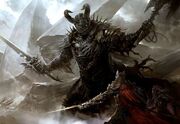 Here is a list of the different currently known members of the Clan :
The head's right arm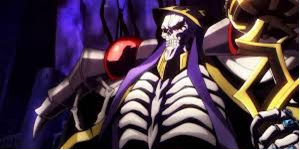 '                                                                                                     '                                              Ralta , The Dark Monk
The 10 Shadows of the Apocalypse

| Dirge , The Shadow of Despair | Hybris , The Shadow of Madness | Némésis , The Shadow of Vengeance | Igniatus , The Shadow of Malovelence | Deimos , The Shadow of Terror |
| --- | --- | --- | --- | --- |
| Barg , The Shadow of Hunger | Echo , The Shadow of Sadness | Thanatos , The Shadow of Death | Mephisto , The Shadow of Destruction | Altaros , The Shadow of Solitude |
Second-in-commands of the undeads clan army

|       Goliath, Older                  Pillar of the Purgatory | Pyrrhus, Older Pillar of                     the Purgatory                   | Beliz, Older Pillar of the                        Purgatory               | Thomas , The Crimson Knight | Abbad ,  The Revenant of the Sands | Invar , The 11th Shadow | Gladius , The Metal Knight | Sven Schneider , an older Black Knight |
| --- | --- | --- | --- | --- | --- | --- | --- |