Seigrim

Kanji/Kana
シーグリム
Rōmaji
shiigurimu
Alias
The Necromancer
The Arch Lich


9th Circle

Biographical Information
Age
80+
Race
Undead (Lich)
Biological Description
Gender
Male
Height
193 cm
Weight
79 kg
Eye Color
Green
Hair Color
Grey
Blood Type
Status
Rank
Nine Circles

Cardinal (Former)

Relationships
Occupation
9th Circle
Affiliation
Phantom Legion
Abilities
Necromancy


Ash Form
Ice Magic
Blight

Equipment
Kharon (Skull-ornamented Staff)
Sacred Treasure
Symbol of Beast
Seigrim "the Delifer" is Former Holy Knight who betrayed his country, and became dreaded Necromancer. He spites Holy Knights, and wishes to erase them from Britain. He has transformed himself to being called Lich by using Necromancy on himself while still alive, turning himself to undead. He has joined Phantom Legion and carries title of 9th Circle of Treachery.
Appearance
During his first appearance, Seigram dressed in dark greyish hooded robe with golden, skull-ornamental shoulder pieces, gloves and boots. No-one has seen his face, expect Paragon.
After his return, he started to wear green, hooded long coat with Skull mask.
Personality
Seigrim is serious and sadistic person, who enjoys to see other people suffer. More than that, he enjoys bloodshed. Usually, Seigrim prefers watching battles from further away, "Enjoying the show".
History
Plot
Abilities/Equipment
Abilities
Seigrim's Original ability is to infect those he touches with different diseases and toxins. He claims he can easily destroy a villages with his ability.
Ability Seigrim gained when he became a Lich. After performing Ritual of the Lich, his entire body became Ash which he can manipulate at will. This makes physical attacks almost useless against him, and lets him to scatter his body as cloud of ash and reform elsewhere.
Magic
Seigrim has ability to control bodies of the dead. While it is not as potential as Enslavement of the Dead, it can rise army of soulless zombies and skeletons to fight for him. What Necromancy loses in quality of minions, it makes it up with quantity.
Seigrim has learned how to manipulate and create Ice, which he uses to fend off his opponent. He can form blasts from it, or razor-sharp icicles.
Weapons
Weapon of Seigram is Skull-ornamented staff, Kharon. It increases power and control of his Necromancy.
Power Level
Magic: 3000
Strength: 500
Spirit: 2000
Total: 5500
Relationships
Quotes
Images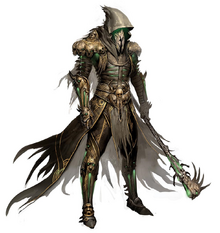 Trivia