"I Am the Hope of the Universe!"

STOP RIGHT THERE!
This article,Isolde, is the sole property of The Z-Meister, and cannot be mentioned, used or even edited, without my permission.
This page, Isolde, is currently under construction. Please bear with the changes made by the author.
Isolde

Kanji/Kana
イソルド
Rōmaji
Isorudo
Alias
The Daytime Vampire (昼間の吸血鬼, Hiruma no Kyūketsuki)
Biographical Information
Age
Unknown
Race
Human/Vampire
Biological Description
Gender
Female
Height
6'1"
Weight
146 lbs.
Eye Color
Purple
Hair Color
Blue
Blood Type
Unknown
Status
Rank
Unknown
Relationships
Occupation
Member of Siege Perilous
Knight
Affiliation
Siege Perilous
Vampire Clan (technical; former)
Abilities
Unknown
Equipment
Currently Unnamed Weapon
Sacred Treasure
Symbol of Beast
"'"
—Zeon
Isolde 「イソルド Isorudo」
Appearance
Edit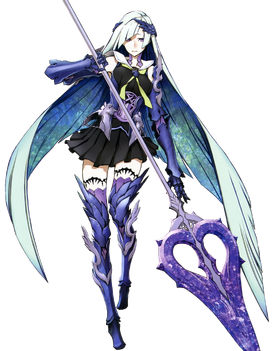 Personality
Edit
Abilities/Equipment
Edit
Abilities
Edit
Relationships
Edit
Relationships
Bercilak
Vortigern
Caradoc
Lunete
Her appearance is based on the character of Lancer from the light novel series Fate/Prototype: Fragments of Blue and Silver.
Her name is taken from the Arthurian character of Isolde, the lover of Tristan and the adulterous wife of Mark of Cornwall.
According to the author:

Isolde's special skill is reconnaissance.
Her hobby is sunbathing.
Her daily routine is sleeping.
Her favorite food is anything raw.
Her charm point is her eyes.
Her complex is her inability to keep her head ornaments straight and in place.
The person she respects most is Bercilak (to an extent).
The person she doesn't want to make an enemy out of is unknown.
Ad blocker interference detected!
Wikia is a free-to-use site that makes money from advertising. We have a modified experience for viewers using ad blockers

Wikia is not accessible if you've made further modifications. Remove the custom ad blocker rule(s) and the page will load as expected.