Hadhafang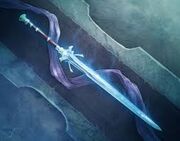 Statistics
Japanese Name:
尼德霍格
Romanized Name: Hadhafang
English Name: Hadhafang
Literal Meaning: Devil's Bane
Ability: Strike Air
Owner(s): Elaine
Weight : 2, 7 kg
Weapon type: Long Greatsword
Hadhafang is a Sacred Treasure of Elaine, the Fox's Sin of Greed and member of the Seven Deadly Sins, and works with her ability Strike Air.
Appearance
Edit
Background
Edit
Abilities
Edit
Hadhafang works in conjunction of Elaine's Strike Air to perform graceful sword attacks and its holy steel can greatly harm demonic beings, vastly damaging them when made contact, making the user a great bane should a member of the Demon Clan encounter her.
Ad blocker interference detected!
Wikia is a free-to-use site that makes money from advertising. We have a modified experience for viewers using ad blockers

Wikia is not accessible if you've made further modifications. Remove the custom ad blocker rule(s) and the page will load as expected.