Argen

Kanji/Kana
アージェン
Rōmaji
aajen
Alias
The Silver Knight

7th Circle

Biographical Information
Age
1000+
Race
Golem
Biological Description
Gender
Height
198 cm
Weight
200 kg
Eye Color
Yellow
Hair Color
Blood Type
Status
Rank
Relationships
Occupation
Affiliation
Phantom Legion
Abilities
Rush
Equipment
Incursio
Sacred Treasure
Symbol of Beast
Argen is Golem working Phantom Legion. It is not known who created him.
Appearance
Argen has silver armor with glowing yellow eyes. Armor is actually part of his body, and restores itself when damaged.
Personality
Argen is cold-blooded and almost emotionless. When given order, he eliminates everyone who stands on his way, expect members of Phantom Legion. It seems he has his own Personality, however, and he is able to identify other members of Phantom Legion.
History
Plot
Abilities/Equipment
Abilities
Incursio
Sacred Treasure of Argen is Incursio, shapeshifting Sword, which Argen can turn to Spear. When tossed, Incursio returns to Argen.
Power Level
Magic: 10000
Strength: 10000
Spirit: 15000
Total: 35000
Relationships
Quotes
Image Gallery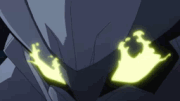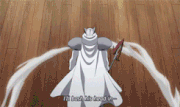 Trivia
Character is active Incursio-armor from Akame ga Kill.