"You turns yourself responsible for everything you did."

This article, Aine Fieldia, is the sole property of Mr. D, and cannot be mentioned, used or even edited, without asking him first, except the collaboration articles. Are you able to hold that?
This page, Aine Fieldia, is currently under construction. Please bear with the changes made by the author.
Aine Fieldia

Kanji/Kana
アイーン・フィエルディア
Rōmaji
Aīn Fierudia
Alias
.
Biographical Information
Age
23
Race
Hybrid (Human-Fairy)
Biological Description
Gender
Female
Height
5'8" ft. (177cm)
Weight
140 lbs (63kg)
Eye Color
Blue
Hair Color
Blonde
Blood Type
A-
Status
Rank
Relationships
Avalon Pendragon (Father)
Fana Fieldia (Mother)
Occupation
Hunter
Affiliation
Fieldia Family
Abilities
.
Equipment
Sacred Treasure
Symbol of Beast
"."
Aine Fieldia「アイーン・フィエルディア Aīn Fierudia」
Appearance
Edit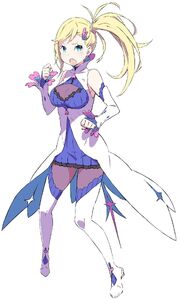 Personality
Edit
Abilities & Equipment
Edit
Physical Prowess
Edit
Ways of Combat
Edit
Abilities
Edit
Power Level
Edit
Relationships
Edit
Battles & Events
Edit
She is based off of Minerva from the Re:Zero Series.
Áine is the Irish Goddess of Summer and Wealth, being commonly depicted as a Fairy. Fieldia is a small climbing plant and is Latin for Field.
Ad blocker interference detected!
Wikia is a free-to-use site that makes money from advertising. We have a modified experience for viewers using ad blockers

Wikia is not accessible if you've made further modifications. Remove the custom ad blocker rule(s) and the page will load as expected.